Calcium Channel Blocker Potential for Angina
Larry H. Bernstein, MD, FCAP, Curator
LPBI
Pranidipine    
ANTHONY MELVIN CRASTO, PhD
https://newdrugapprovals.files.wordpress.com/2015/12/str116.jpg
Pranidipine , OPC-13340, FRC 8411

Acalas®
NDA Filing in Japan

A calcium channel blocker potentially for the treatment of angina pectoris and hypertension.
CAS No. 99522-79-9
Molecular Formula

C25H24N2O6

Average mass 

448.468
see dipine series………..http://organicsynthesisinternational.blogspot.in/p/dipine-series.html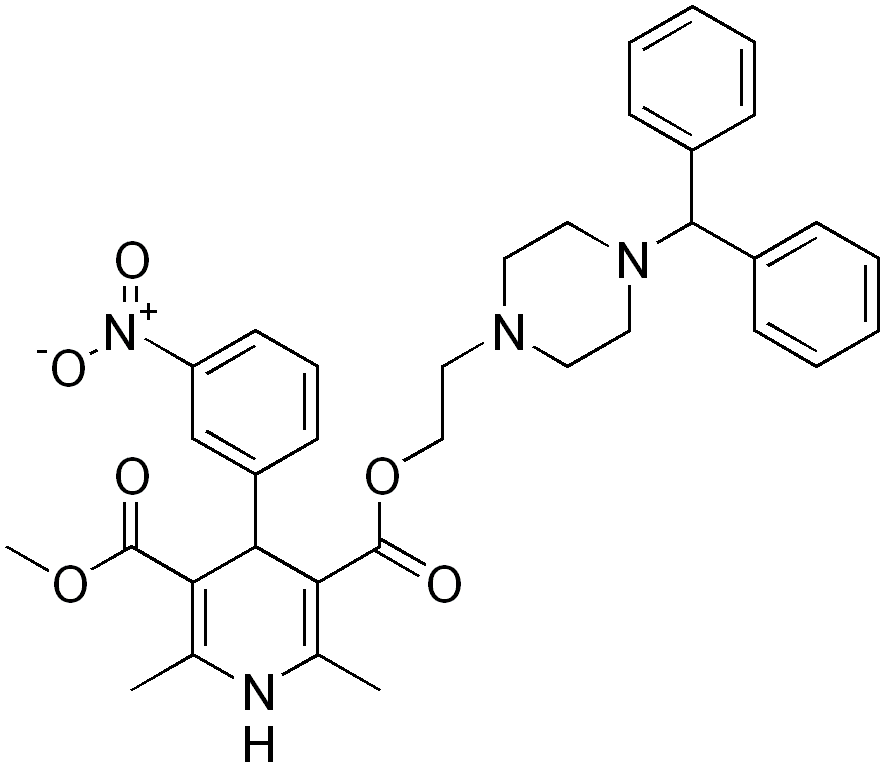 manidipine
PAPER
Der Pharmacia Sinica, 2014, 5(1):11-17
https://newdrugapprovals.files.wordpress.com/2015/12/str113.jpg
pelagiaresearchlibrary.com/der-pharmacia-sinica/vol5-iss1/DPS-2014-5-1-11-17.pdf
Names
IUPAC name

methyl (2E)-phenylprop-2-en-1-yl 2,6-dimethyl-4-(3-nitrophenyl)-1,4-dihydropyridine-3,5-dicarboxylate

Other names

2,6-dimethyl-4-(3-nitrophenyl)-1,4-dihydropyridine-3,5-dicarboxylic acid O5-methyl O3-[(E)-3-phenylprop-2-enyl] ester

Identifiers
99522-79-9 
ChEMBL
ChEMBL1096842 
ChemSpider
4940726 
Jmol interactive 3D
Image
MeSH
C048161
PubChem
6436048
UNII
9DES9QVH58 
| PATENT | SUBMITTED | GRANTED |
| --- | --- | --- |
| Process for the preparation of 1,4 – dihydropyridines and novel 1,4-dihydropyridines useful as therapeutic agents [US2003230478] | 2003-12-18 | |
| Advanced Formulations and Therapies for Treating Hard-to-Heal Wounds [US2014357645] | 2014-08-19 | 2014-12-04 |
| METHODS OF TREATING CARDIOVASCULAR AND METABOLIC DISEASES [US2014322199] | 2012-08-06 | 2014-10-30 |
| Protein Carrier-Linked Prodrugs [US2014323402] | 2012-08-10 | 2014-10-30 |
| sGC STIMULATORS [US2014323448] | 2014-04-29 | 2014-10-30 |
| TREATMENT OF ARTERIAL WALL BY COMBINATION OF RAAS INHIBITOR AND HMG-CoA REDUCTASE INHIBITOR [US2014323536] | 2012-12-07 | 2014-10-30 |
| Agonists of Guanylate Cyclase Useful For the Treatment of Gastrointestinal Disorders, Inflammation, Cancer and Other Disorders [US2014329738] | 2014-03-28 | 2014-11-06 |
| METHODS, COMPOSITIONS, AND KITS FOR THE TREATMENT OF CANCER [US2014335050] | 2012-05-25 | 2014-11-13 |
| ROR GAMMA MODULATORS [US2014343023] | 2012-09-18 | 2014-11-20 |
| High-Loading Water-Soluable Carrier-Linked Prodrugs [US2014296257] | 2012-08-10 | 2014-10-02 |
Synthesis, isolation and use of a common key intermediate for calcium antagonist inhibitors
Neelakandan K.a,b, Manikandan H.b , B. Prabhakarana*, Santosha N.a , Ashok Chaudharia *, Mukund Kulkarnic , Gopalakrishnan Mannathusamyb and Shyam Titirmarea
a API Research Centre, Emcure Pharmaceutical Limited, Hinjawadi, Pune, India bDepartment of Chemistry, Annamalai University, Chidhambaram, India cDepartment of Chemistry, Pune University, Pune, India _________________________________________________________________________________
Pelagia Research Library     www.pelagiaresearchlibrary.com      Der Pharmacia Sinica, 2014, 5(1):11-17
The compound (3) synthesized from Nitrobenzaldehyde, tertiary butyl acetoacetate and piperidine can be used as a common intermediate for the production of calcium channel blockers like Nicardipine hydrochloride (1) and Pranidipine hydrochloride (2) with high purity.
The last twenty years have witnessed discoveries of calcium antagonists associated with multicoated pharmacodynamics potential which include not only antihypertensive and antiarrhythmic effects of the drugs but also action against excessive calcium entry in the cell of cardiovascular system and subsequent cell damage. Among many classes of calcium channel blockers, 1,4-dihydropyrimidine based drug molecules represented by Felodipine, Clevidipine, Benidipine, Nicardipine and Pranidipine are by far the best to reduce systemic vascular resistance and arterial pressure.
The reported synthetic approaches however proceed with complicated work ups, laborious purification procedures, highly expensive chemicals and low overall yields. (Scheme-I).
Synthetic scheme of Nicardipine and Pranidipine In view of the draw backs associated with previous synthetic approaches there is a strong need for environmentfriendly high yielding process applicable to the multi-kilogram production of calcium antagonist inhibitors. Herein, we report a scalable synthesis for Nicardipine hydrochloride (1) and Pranidipine hydrochloride (2) in fairly high overall yield using key intermediate 3-nitro benzylidene acid (3).Compound (3) was synthesized in two steps using 3-nitrobenzaldehyde, tertiary butyl acetoacetate and piperidine as a base to furnish tertiary butyl ester derivative (10). This was followed by hydrolysis of (10) in TFA and DCM to furnish compound (3) which would serve as a precursor for synthesis of versatile calcium antagonist inhibitors (Scheme-II).
Reported routes for synthesis of Benidipine,1,2 Lercanadipine,3-6 Nimodipine,7-11 Barnidipine12-14 and Manidipine15-16 were explored in our laboratory which involve reaction of nitro benzaldehyde with tertiary butyl acetoacetate using piperidine as a base to get tertiary butyl ester derivative (10). This is further treated with respective reagents to get various calcium channel blockers as shown in scheme 4. Since reported procedures involve in-situ generation of intermediate (3) and its reaction with corresponding fragments, it results in the formation of by-products which ultimately decrease the yield and increase the cost of API.
A novel process of manufacturing benzylidine acid derivative (3) was developed. Use of this intermediate was demonstrated by synthesis of Nicardipine and Pranidipine. This protocol may be employed for synthesis of other calcium channel blockers. In conclusion, a highly efficient, reproducible and scalable process for the synthesis of calcium channel blockers has been developed using (3) as the key intermediate.
[1] US 63 365 (Kyowa Hakko; appl.15.4.1982; J-prior.17.4.1981). [2] US 4 448 964 (Kyowa Hakko;15.5.1984; J-prior.17.4.1981). [3] Leonardi, A. et al.: Eur. J. Med.Chem. (EJMCA5) 33,399 (1988). [4] EP 153 016 (Recordati Chem. and Pharm.; appl. 21.1.1985; GB-prior. 14.2.1984). [5] US 4 705 797 (Recordati;10.11.1987; GB-prior. 14.2.1984). [6] WO 9 635 668 (Recordati Chem. and Pharm.; appl. 9.5.1996; I-prior. 12.5.1995). [7] DOS 2 117 571 (Bayer; appl. 10.4.1971). [8] DE 2 117 573 (Bayer; prior.10.4.1971) [9] US 3 799 934 (Bayer;26.3.1974;D-prior.10.4.1971). [10] US 3 932 645 (Bayer;13.1.1976;D-prior.10.4.1971). [11] Meyer, H. et al.: Arzneim.-Forsch. (ARZNAD) 31, 407 (1981); 33, 106 (1983). [12] DE 2 904 552 (Yamanouchi Pharm.; appl. 7.2.1979; J-prior.14.2.1978). [13] US 4 220 649 (Yamanouchi;2.9.1980; J-prior.14.2.1978). [14] CN 85 107 590( Faming Zhuanli Sheqing Gonhali S.; appl. 11.10.1985; J-prior.24.1.1985). [15] EP 94 159 (Takeda; appl. 15.4.1983; J-prior. 10.5.1982). [16] US 4 892 875 (Takeda;9.1.1990; J-prior. 10.5.1982, 11.1.1983).