DNA Repair
Larry H. Bernstein, MD, FCAP, Curator
LPBI
In celebration of the 2015 Nobel Prize in Chemistry
http://blogs.rsc.org/cc/2015/10/27/in-celebration-of-the-2015-nobel-prize-in-chemistry/
The 2015 Nobel Prize in Chemistry was jointly awarded to Tomas Lindahl, Paul Modrich and Aziz Sancar for their "
mechanistic studies of DNA repair
". Their research has not only revolutionised our knowledge of how we function but it also lead to the development of life-saving treatments. In celebration of their landmark achievements, we are delighted to present a special
Nobel Prize collection
of recent Chemical Communications, Chemical Science and Chemical Society Reviews articles on DNA repair.
Tomas Lindahl, Paul Modrich and Aziz Sancar © Inserm-P. Latron, Mary Schwalm/AP/Press Association, Max Englund/UNC School of Medicine.
Thomas Lindahl's research pieced together a molecular image of how base excision repairs DNA when a base of a nucleotide is damaged and subsequently managed to recreate the human repair process in vitro. The mechanism known as nucleotide excision repair, which excises damage from UV and carcinogenic substances, was then mapped by Aziz Sancar – the molecular details of this process changed the entire research field. Paul Modrich also studied the human version of the repair system. His work focused on DNA mismatch repair, a natural process which corrects mismatches that occur when DNA is copied during cell division.
The research carried out by the three 2015 Nobel Laureates in Chemistry has not only revolutionised our knowledge of how we function but also lead to the development of life – saving treatments.
Reviews
Finding needles in a basestack: recognition of mismatched base pairs in DNA by small molecules
Anton Granzhan, Naoko Kotera and  Marie-Paule Teulade-Fichou
Chem. Soc. Rev., 2014, 43, 3630-3665
DOI: http://dx.doi.org:/10.1039/C3CS60455
---
The chemical biology of sirtuins
Bing Chen, Wenwen Zang, Juan Wang, Yajun Huang, Yanhua He,  Lingling Yan,  Jiajia Liu and Weiping Zheng
Chem. Soc. Rev., 2015, 44, 5246-5264
DOI: http://dx.doi.org:/10.1039/C4CS00373J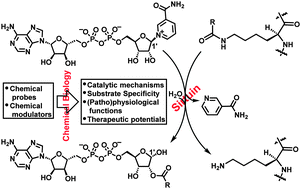 ---
Luminescent oligonucleotide-based detection of enzymes involved with DNA repair
Chung-Hang Leung, Hai-Jing Zhong, Hong-Zhang He, Lihua Lu, Daniel Shiu-Hin Chan and Dik-Lung Ma
Chem. Sci., 2013, 4, 3781-3795
DOI: http://dx.doi.org:/10.1039/C3SC51228B
---
Research articles
A label-free and sensitive fluorescent method for the detection of uracil-DNA glycosylase activity
Jing Tao, Panshu Song, Yusuke Sato, Seiichi Nishizawa, Norio Teramae, Aijun Tong  and Yu Xiang
Chem. Commun., 2015, 51, 929-932
DOI: http://dx.doi.org:/10.1039/C4CC06170E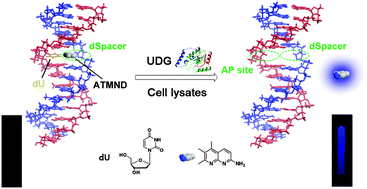 ---
DNA-mediated supercharged fluorescent protein/graphene oxide interaction for label-free fluorescence assay of base excision repair enzyme activity
Zhen Wang, Yong Li, Lijun Li, Daiqi Li, Yan Huang, Zhou Nie and Shouzhuo Yao
Chem. Commun., 2015, 51, 13373-13376
DOI: http://dx.doi.org:/10.1039/C5CC04759E
---
A fluorescent G-quadruplex probe for the assay of base excision repair enzyme activity
Chang Yeol Lee, Ki Soo Park and Hyun Gyu Park
Chem. Commun., 2015, 51, 13744-13747
DOI: http://dx.doi.org:/10.1039/C5CC05010C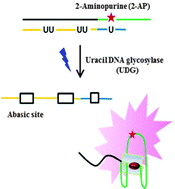 ---
A chemical probe targets DNA 5-formylcytosine sites and inhibits TDG excision, polymerases bypass, and gene expression
Liang Xu, Ying-Chu Chen, Satoshi Nakajima, Jenny Chong, Lanfeng Wang,  Li Lan, Chao Zhang and  Dong Wang
Chem. Sci., 2014, 5, 567-574
DOI: http://dx.doi.org:/10.1039/C3SC51849C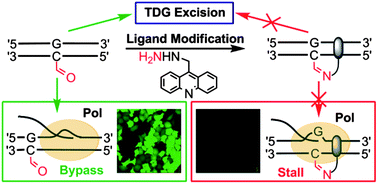 ---
Sensitive detection of polynucleotide kinase using rolling circle amplification-induced chemiluminescence
Wei Tang, Guichi Zhu and Chun-yang Zhang
Chem. Commun., 2014, 50, 4733-4735
DOI: 10.1039/C4CC00256C
---
Rescuing DNA repair activity by rewiring the H-atom transfer pathway in the radical SAM enzyme, spore photoproduct lyase
Alhosna Benjdia, Korbinian Heil, Andreas Winkler, Thomas Carell and Ilme Schlichting
Chem. Commun., 2014, 50, 14201-14204
DOI: http://dx.doi.org:/10.1039/C4CC05158K
---
Expanding DNAzyme functionality through enzyme cascades with applications in single nucleotide repair and tunable DNA-directedassembly of nanomaterials
Yu Xiang, Zidong Wang, Hang Xing and  Yi Lu
Chem. Sci., 2013, 4, 398-404
DOI: http://dx.doi.org:/10.1039/C2SC20763J
---
Detection of base excision repair enzyme activity using a luminescent G-quadruplex selective switch-on probe
Ka-Ho Leung, Hong-Zhang He, Victor Pui-Yan Ma, Hai-Jing Zhong, Daniel Shiu-Hin Chan,  Jun Zhou,  Jean-Louis Mergny, Chung-Hang Leung and  Dik-Lung Ma
Chem. Commun., 2013, 49, 5630-5632
DOI: http://dx.doi.org:/10.1039/C3CC41129J
---
Endonuclease IV discriminates mismatches next to the apurinic/apyrimidinic site in DNA strands: constructing DNA sensing platforms with extremely high selectivity
Xianjin Xiao, Yang Liu and  Meiping Zhao
Chem. Commun., 2013, 49, 2819-2821
DOI: http://dx.doi.org:/10.1039/C3CC40902C
Top 15 most downloaded Chem Soc Rev articles in Q3, 2015
Ultra-stable organic fluorophores for single-molecule research
Qinsi Zheng, Manuel F. Juette, Steffen Jockusch, Michael R. Wasserman, Zhou Zhou, Roger B. Altman and Scott C. Blanchard
DOI: 10.1039/C3CS60237K, Review Article
The chemistry of graphene oxide
Daniel R. Dreyer, Sungjin Park, Christopher W. Bielawski and Rodney S. Ruoff
DOI: 10.1039/B917103G, Critical Review
Selection of boron reagents for Suzuki–Miyaura coupling
Alastair J. J. Lennox and Guy C. Lloyd-Jones
DOI: 10.1039/C3CS60197H, Review Article
Physical and chemical tuning of two-dimensional transition metal dichalcogenides
Haotian Wang, Hongtao Yuan, Seung Sae Hong, Yanbin Li and Yi Cui
DOI: 10.1039/C4CS00287C, Review Article
Advances on structuring, integration and magnetic characterization of molecular nanomagnets on surfaces and devices
N. Domingo, E. Bellido and D. Ruiz-Molina
DOI: 10.1039/C1CS15096K, Critical Review
Heterogeneous photocatalyst materials for water splitting
Akihiko Kudo and Yugo Miseki
DOI: 10.1039/B800489G, Critical Review
Shape control in gold nanoparticle synthesis
Marek Grzelczak, Jorge Pérez-Juste, Paul Mulvaney and Luis M. Liz-Marzán
DOI: 10.1039/B711490G, Tutorial Review
An overview of nanoparticles commonly used in fluorescent bioimaging
Otto S. Wolfbeis
DOI: 10.1039/C4CS00392F, Review Article
Heterogeneous catalysis for sustainable biodiesel production via esterification and transesterification
Adam F. Lee, James A. Bennett, Jinesh C. Manayil and Karen Wilson
DOI: 10.1039/C4CS00189C, Review Article
A review of electrode materials for electrochemical supercapacitors
Guoping Wang, Lei Zhang and Jiujun Zhang
DOI: 10.1039/C1CS15060J, Critical Review
MOF positioning technology and device fabrication
Paolo Falcaro, Raffaele Ricco, Cara M. Doherty, Kang Liang, Anita J. Hill and Mark J. Styles
DOI: 10.1039/C4CS00089G, Review Article
Microfluidic lab-on-a-chip platforms: requirements, characteristics and applications
Daniel Mark, Stefan Haeberle, Günter Roth, Felix von Stetten and Roland Zengerle
DOI: 10.1039/B820557B, Critical Review
Noble metal-free hydrogen evolution catalysts for water splitting
Xiaoxin Zou and Yu Zhang
DOI: 10.1039/C4CS00448E, Review Article
"Green" electronics: biodegradable and biocompatible materials and devices for sustainable future
Mihai Irimia-Vladu
DOI: 10.1039/C3CS60235D, Review Article
Synthetic biology for the directed evolution of protein biocatalysts: navigating sequence space intelligently
Andrew Currin, Neil Swainston, Philip J. Day and Douglas B. Kell
DOI: 10.1039/C4CS00351A, Review Article