Molecular crowding: Simple nucleic acid and protein folding may be sped up by 400,000 percent inside cells
Reporter: Aviva Lev-Ari, PhD, RN
See on Scoop.it – Cardiovascular Disease: PHARMACO-THERAPY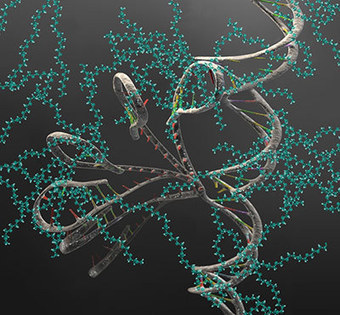 Crowding has notoriously negative effects at large size scales, blamed for everything from human disease and depression to community resource shortages. But relatively little is known about the influence of crowding at the cellular level. A new JILA study shows that a crowded environment has dramatic effects on individual biomolecules.
In the first data on the underlying dynamics (or kinetics)of crowded single biomolecules , reported in Proceedings of the National Academy of Sciences,* JILA researchers found that crowding leads to a 35-fold increase in the folding rate of RNA (ribonucleic acid), while the unfolding rate remains relatively stable.
RNA is a long chain-like molecule that contains genetic information, makes proteins and catalyzes biological reactions. It must fold into the correct 3D shape to function properly. The new results show that while RNA usually spends most of its time unfolded, in a crowded situation it folds much more often, although it remains folded for the usual period of time during each round.
"Cells are 25 to 35 percent filled with 'stuff'—proteins, nucleic acids, lipids, etc.—and the effect of crowding on simple reactions like folding of nucleic acids and proteins is not well understood," JILA/NIST Fellow David Nesbitt says. "Almost all detailed kinetic data comes from in vitro studies, that is, not in a living cell.
"But our work at the single-molecule level suggests that the rates and equilibrium constants (where folding and unfolding rates are equal) for simple nucleic acid folding processes may be shifted by up to 400,000 percent or more from what one might expect from such uncrowded solution studies."
See on www.nist.gov