The amazing history of the Nobel Prize, told in maps and charts
Reporter: Aviva Lev-Ari, PhD, RN
See on Scoop.it – Cardiovascular and vascular imaging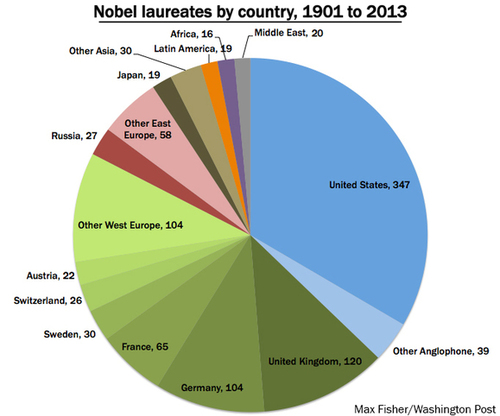 The U.S. has 4 percent of the world's population and 34 percent of its Nobel laureates. That's the most of any country in the world, by far: next-highest ranked is Britain with 120 laureates.
Up top is a heat map showing which countries have had the most Nobel laureates in the prize's history. Most countries have zero Nobel laureates. The faint yellow countries have received exactly one Nobel in the 113 years since the first prize was given. There's a small cluster of orange countries with maybe 10 to 15 Nobel laureates. A very tiny group of dark red countries have taken most of the Nobel prizes.
Just over 1,000 Nobels have been awarded since the prize was first established in 1901. Most of those have been in sciences but there's also the literature prize and, most famously, the peace prize. We've added up every Nobel awarded since 1901 and separated them out by country. The results are fascinating – and revealing.
A stunning 83 percent of all Nobel laureates have come from Western countries (that means Western Europe, the United States, Canada, Australia or New Zealand). We'll dive into some of the statistics of the Nobel below. But first here's a map of the prizes broken down by region.
See on www.washingtonpost.com