See on Scoop.it – Cardiovascular and vascular imaging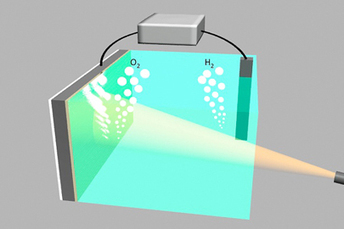 The new device uses light to split water into oxygen and hydrogen, a clean-burning fuel that can be used to generate electricity on demand.
Stanford University scientists have created a silicon-based water splitter that is both low-cost and corrosion-free. The novel device – a silicon semiconductor coated in an ultrathin layer of nickel – could help pave the way for large-scale production of clean hydrogen fuel from sunlight, according to the scientists. Their results are published in the Nov. 15, 2013, issue of the journal Science.
"Solar cells only work when the sun is shining," said study co-author Hongjie Dai, a professor of chemistry at Stanford. "When there's no sunlight, utilities often have to rely on electricity from conventional power plants that run on coal or natural gas."
A greener solution, Dai explained, is to supplement the solar cells with hydrogen-powered fuel cells that generate electricity at night or when demand is especially high.
To produce clean hydrogen for fuel cells, scientists have turned to an emerging technology called water splitting. Two semiconducting electrodes are connected and placed in water. The electrodes absorb light and use the energy to split the water into its basic components, oxygen and hydrogen. The oxygen is released into the atmosphere, and the hydrogen is stored as fuel.
When energy is needed, the process is reversed. The stored hydrogen and atmospheric oxygen are combined in a fuel cell to generate electricity and pure water.
The entire process is sustainable and emits no greenhouse gases. But finding a cheap way to split water has been a major challenge. Today, researchers continue searching for inexpensive materials that can be used to build water splitters efficient enough to be of practical use.
See on news.stanford.edu