Bees And Flowers Speak In A Secret UV Color Code
Reporter: Aviva Lev-Ari, PhD, RN
See on Scoop.it – Cardiovascular Disease: PHARMACO-THERAPY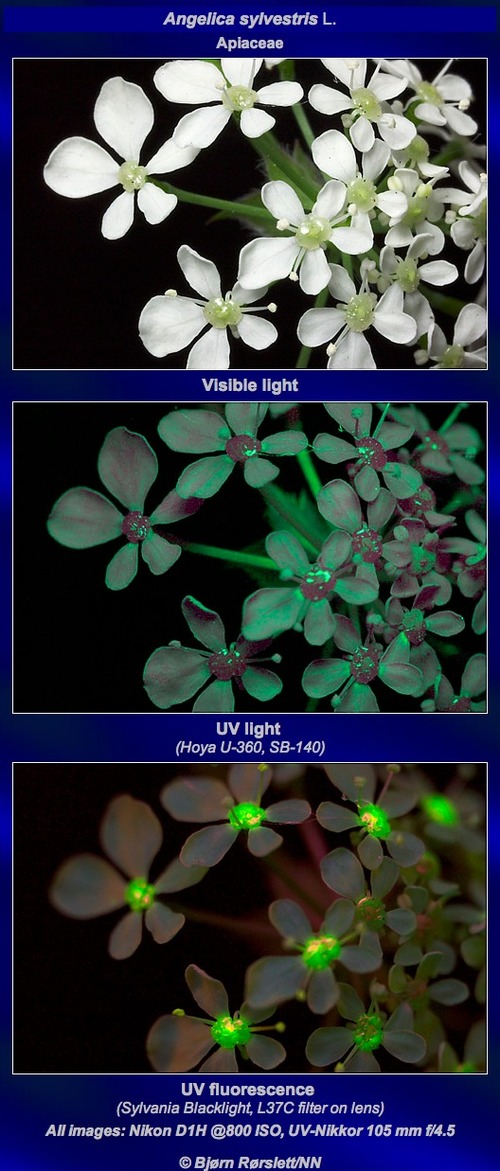 Flowers may use UV patterns to attract bees. See how, and check out photos that shows us approximately what a bee sees when it looks at flowers.
UV fluorescence may be a common trait to most flowers, but might be of temporary occurrence for parts of the flower. Anthers, style, and pollen grains occasionally are seen to fluoresce. Strong fluorescence has been noted from nectar glands (Angelica sylvestris) and several other species. Some species show fluorescence of the non-fertilised stigmas, but this trait is difficult to document with my normal technical approach. Fluorescence from outside of the bracts is exhibited by some species. As far as the photography is concerned, the main issue with flower fluorescence is its transient behaviour. It may be present, but the flowers collected for photography don't appear to fluoresce simply because the floral development is in the "wrong" stage. With fluorescent pollen grains, their size often are at or below the detection limit unless quite high magnification is employed, thus calling for a true photomacropgraphic approach. The fluorescing pollen of Mirabilis jalapa has been documented using this method.
UV-absorbing substances (flavonyl glucosides) are instrumental in bringing about the fascinating pollinating guide patterns. UV marks on flowers are but a logical extension of the visual pollinating clues provided by evolution in nature. If the flower absorbs UV all over the floral parts, it may appear visually in a "UV-complementary" color even to pollinators capable of seeing in UV. We can only speculate as to the rendition of that complementary color, but if say the insect is modelled as seeing UV as "blue", blue as "green", and green as "red", then the UV complementary would be yellow. Thus, a UV-absorbing yellow flower still would come across as "yellow" even for an insect (or so it might seem, but who are we to know such things anyway).
See on io9.com